Swag / Jabot Curtains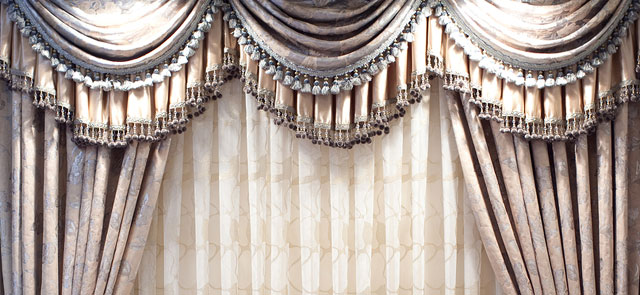 To get wholesale prices on swag and jabot curtains in Las Vegas, shop with Blind Wholesaler. Swag and jabot valances are an ideal solution for windows throughout your home. They drape down both sides of a window to create the illusion that the window is covered. These pieces create a soft, comforting feeling while still allowing light to penetrate the room. Display your Victorian sense of style with swag and jabot curtains from Blind Wholesaler. If you are an interior decorator with discerning taste or a homeowner with an eye for design, we are the area's best selection at the best prices this visually appealing style of window covering.
What Are Swag & Jabot Window Coverings?
Jabots, sometimes referred to as cascades or tails, are the vertical pleated portions of a window treatment used in combination with festoons, or swags, that run along the top of a window. Although the overall purpose is strictly decorative, jabot obstructs from view the seams between individual swags. Swag and jabot valances are traditional styles for luxurious displays that add sophistication and elegance to any room. Jabots are mounted to a rod located on the front, and the swags are mounted to a rod at the rear then flipped over the front rod to create an overlap. Swags are cut on the bias, which allows the fabric to hang in a smoother and more seamless fashion.
Affordable Window Treatments At Blind Wholesaler
Elegance and visual appeal do not automatically translate into high-cost window coverings. Blind Wholesaler provides affordable luxury window treatments to clients throughout the Las Vegas Valley. Our buying power and vast inventory allow us to provide wholesale rates to retail customers. Since we don't have the added expense of maintaining a costly showroom, we can pass these additional saving on to the general public.
Window Treatments For All Window Types
We offer a vast array of window treatments for all manner of windows, and we are certain to have what you need. There are several styles of swag and jabot curtains available for purchase at Blind Wholesaler and the options are numerous. To get the most comprehensive picture of what we have to offer, please browse through our selection online or call to speak to one of our associates.