Antimicrobial Shades for Business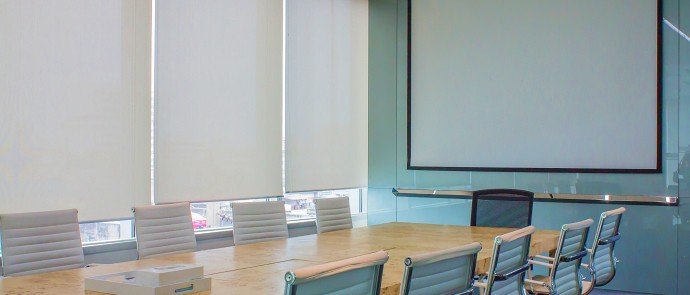 Maintain a healthier living and workspace with antimicrobial shades from Blind Wholesaler of Las Vegas. We can help you provide window coverings that support and enhance a cleaner lifestyle in both your commercial and residential settings.
With options like these, why wouldn't you add that extra layer of protection for patients, clients, customers, employees, or your family?
How Do Antimicrobial Shades Work?
Antimicrobial agents help to prevent the growth of infectious microorganisms, like bacteria and viruses (the coronavirus, for example). New technologies, like Microban, add this protection to textiles during manufacturing. These now-enhanced materials can be used in everything from seat cushions to bedding to, yes – window coverings.
Microban antimicrobial window treatments carry a variety of other benefits for your place of work.
Reduces Harmful Organism Growth
Repels Dirt, Dander & Dust
Prevents Mold & Mildew Growth
Easy To Clean & Maintain
Stops & Discourages Odors
Protection That Lasts
Stop Allergens & Illnesses In Their Tracks
Common disinfectants only sanitize or disinfect for a short period of time. Antiviral and antimicrobial shades work continuously throughout the life of the product. Wash after wash, you can be sure that you're providing extra protection without compromise.
Are Antiviral & Antimicrobial Shades Worth It?
Antimicrobial and antiviral shades can be the perfect choice for commercial customers. Protect allergy sufferers, immune-compromised, and high-risk individuals and customers in the workplace. These shades help improve healthy air quality by reducing harmful viruses and bacteria in the air.
Professional Offices
Retail Spaces
Doctor's Offices, Hospitals & Medical Clinics
Childcare, Daycare & Schools
Assisted Living Facilities
Service & Hospitality
Places Of Worship
Government & Community Buildings
Buy Custom Antimicrobial Shades In Las Vegas
Blind Wholesaler of Las Vegas is not your average window covering sales company. Our experienced and knowledgeable professionals come to you. You are presented with a variety of color choices and material options for your antimicrobial shades in the place you plan to hang them. We can also take care of all required measuring and installation.
Call today to schedule your on-site consultation and get started protecting what matters to you.