Faux Wood Shutters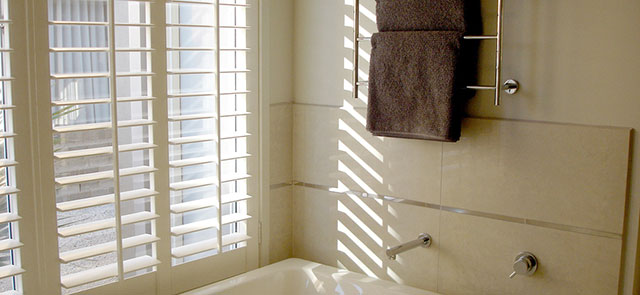 Faux wood shutters are available at Blind Wholesaler in Las Vegas at the lowest rates in town. If you're interested in saving money on your utility bills, faux wood or composite shutters are one way you can start doing so. You can also have the elegance of plantation shutters with added durability at a remarkable price. With the polyresin composition of these window coverings, your investment is guaranteed to last longer, will be easier to clean, and won't fade or crack.
The Benefits Faux Wood Shutters
If you're interested in the classic look of wood shutters but need to stay within a fixed budget, faux wood shutters may be an option to consider. This more dependable choice will insulate your windows or french doors while still giving you the option to let light in. These window coverings are water resistant and can be the perfect fit for your bathroom or kitchen. If you have children in the home, shutters can also provide peace of mind and one less thing to worry about as they have no accessible cords. Guaranteed not to fade, crack, or warp, faux wood shutters are an inexpensive and eco-friendly way to lower energy costs and upgrade the look of your interior design. Our shutter installation is quick and hassle-free, so why not upgrade? Some other benefits would include:
Eco-friendly For Energy Savings
Safer For Children & Pets
Moisture Resistant
Long Lasting Durability
Increase The Value Of Your Home
Shutter Installation Done Right
At Blind Wholesaler, we specialize in shutter installation. Our professional team has the knowledge and experience you need to install your faux wood shutters saving you time and energy. We understand there are a lot of DIY options out there but don't risk falling off a ladder, or installing your shutters incorrectly when we can do it for you at a surprisingly low cost. We also offer custom shutter options. Contact us for more information or a free estimate on our installation services.
Faux Wood Shutters In Las Vegas
For faux wood shutters in Las Vegas, contact Blind Wholesaler and we'll provide a free quote. These are an amazing option for the desert heat in Las Vegas and you'll see increased energy efficiency and savings. Contact us today to learn more about the benefits of faux wood or composite shutters.