Vertical Blinds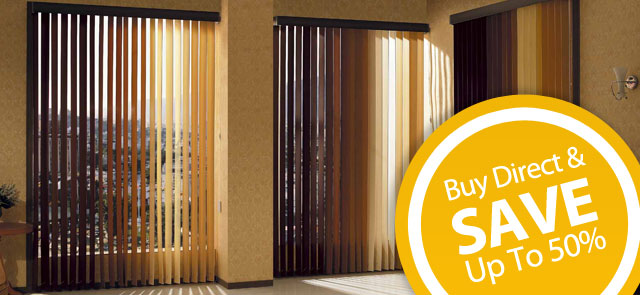 At Blind Wholesaler of Las Vegas, we are your expert source for vertical blinds. These blinds have been a popular choice for window coverings in homes and offices for decades. They can provide you with lasting style while also serving the functional needs you have for your window coverings. They are ideal for controlling the amount of light filtering into a room, for temperature control, and for privacy.
Style Selection

When shopping for vertical blinds, you want to find the perfect style and color for your particular home or office. At Blind Wholesaler, we offer several dozen different colors and patterns to choose from to customize your vertical blind look. We also offer many other styles such as horizontal blinds, cellular shades, wood blinds and more. You have a certain vision in mind for your completely decorated space, and we have the colors and styles available to help you make that vision a reality.
What Are Vertical Blinds?

Vertical blinds, by definition, are those with slats that hang vertically or up and down. Usually, they are suspended from a valance at the top of the window. While they are popular for use with sliding glass doors, they are also often used on smaller and larger windows. To allow light to filter in, the slats can be angled to the left or right side rather than in an upward position as with most other types of blinds. Vertical blinds can often be confused with Venetian blinds. However, Venetian blinds are horizontal in nature.
Fabric Selection

In addition to offering you many different color options to choose from, we also offer different vertical blind materials. Each type has its own advantages and disadvantages. Some options are easier to clean. Others allow diffused light to filter into the room even when the shades are drawn. These are important factors to consider when selecting the right blinds for your space.
Vertical Blind Professionals In Las Vegas

It can be difficult to determine which type of window coverings you should buy for your space. At Blind Wholesaler we have all of the options you could want at the price point you need. Contact us with any questions you may have or to schedule an in-home estimate for your vertical blind installation today.