Automated Shutters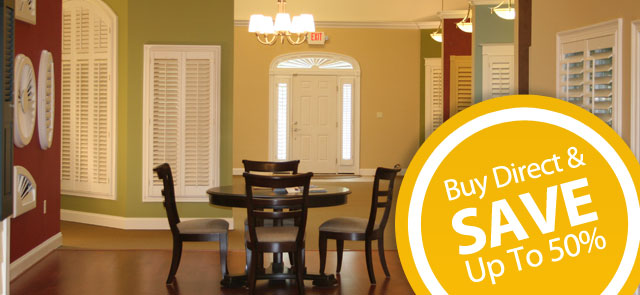 Blind Wholesaler in Las Vegas offers discounted motorized shutters to homes and businesses. In recent years, automatic window shutters have seen a large increase in popularity.
These style of electric shutters are conveniently controlled using a smart phone or wall-mountable keypad. These money-saving systems can even be set on a timer. There are many benefits to using automated window shutters.
With The Push Of A Button
Motorized blinds give people the ability to adjust the blinds with the push of a button, eliminating any need for manual adjustments. Some electric shutters have computerized mechanisms that let them adjust automatically to control the amount of sunlight that enters a room. Electric shutters are useful in rooms that contain multiple hard-to-reach windows. Common reasons to choose automatic blinds would include:
Fits Any Size Window
Save On Heating & Cooling Costs
Security Feature
Skylights
Large Windows
Hard To Reach Windows
Homes With Multiple Levels
Less Maintenance
Automated window shutters do not undergo the same amount of wear and tear as traditional ones due to breakage from mishandling. The cord-free operation eliminates the need for intrusive-looking cords. By removing cords, there is no cord knotting or other forms of wear and tear that leave blinds broken and unattractive looking.
Increased Security & Privacy
Automated electric shutters give a home an increased level of security and privacy. They are adjustable to allow various levels of light to enter a room. Opening or closing the shades can occur without standing in front of the window to do so. Homeowners can put these blinds on a regular schedule while they are away on vacation. Setting the timer creates the appearance that homeowners are still in their residence. Anyone with pets and children can appreciate these electric blinds. Motorized window treatments also remove the dangers associated with corded blinds.
Customization & Beauty
Automated shutters can be customized to fit any window size and type. Other customization options include the variety of styles, pattern, thickness, and material available. Motorized electric shutters come in many colors to match any decor.
There are several benefits to adding motorized window treatments to any home. They are convenient and create an added level of safety that works well with all window types. Being able to control a room full of shutters at the push of a button is also an impressive sight.
Anyone in the Las Vegas area should request Blind Wholesaler to come out for a free consultation in your home or office, to see if automated shutters are the right fit for you.