Sliding Glass Door Blinds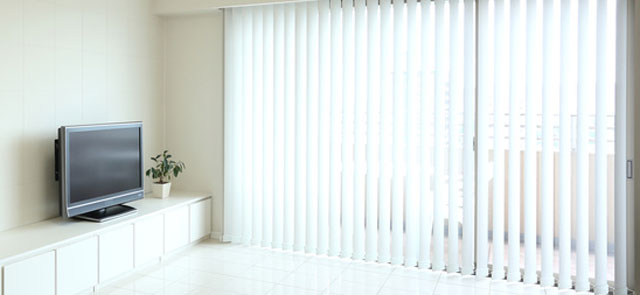 Let the sunshine in while maintaining privacy and easy access with sliding glass doors blinds from Blind Wholesaler in Las Vegas. We offer a number of options from several manufacturers. We provide wholesale blinds to the public; free measuring and in-home estimates, as well as professional installation of your blinds.
Vertical Blinds
Vertical blinds have multiple hanging slats, which are designed to traverse your door horizontally. They provide light and outdoors views when open, but give you total privacy and energy efficiency when closed. Vertical blinds come in a variety of colors and materials, all of which can be coordinated to complement the other window treatments in your home. Since they collect less dust than horizontal blinds, they are easier to clean, and individual damaged sections can be replaced without replacing the entire blind system.
Panel Track Blinds
Like vertical blinds, panel track blinds also have hanging panels, but they are much wider than vertical blind slats and lay flat against the window, sliding from side to side in channels. These are available in a huge variety of materials to precisely match your other window shades. You can choose from open weave to total blackout depending upon your privacy requirements.
Other Options
You can add motorization to your blinds for one-touch operation, or you can opt for wand control. Blinds are also offered with specialty shapes and tracks, valances and sealed bottom weights, to name a few.
Sliding Glass Door Blind Installation
Since accurate measurements are critical for proper installation of your blinds, our experienced personnel will come to your home to perform this function. They will also provide an in-home estimate for the installation of your new blinds. Our installers will bring your blinds with them to the appointment and will complete the installation within a few hours
Sliding Glass Door Blinds At Wholesale Prices
Since we eliminate the middleman, Blind Wholesalers in Las Vegas can provide the public with affordable cordless blinds for sliding glass doors at wholesale prices. We do this by reducing the costs of advertising and showroom rental and passing these savings on to you through the purchase and installation of our products. So call us for an appointment today and let us help you find the ideal choice for your home.