Custom Shutters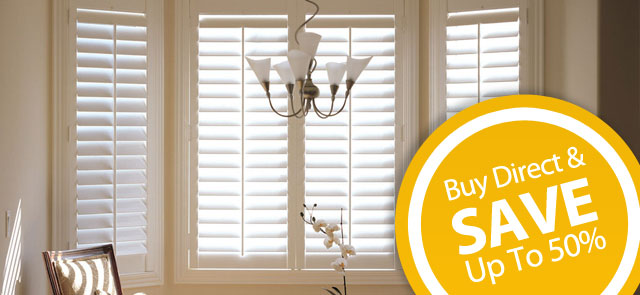 At Blind Wholesaler we install custom shutters in Las Vegas for homes and commercial properties. Windows come in all different shapes and sizes, when you order custom shutters you can not only choose the color to match your decor, but you can also ensure they are perfectly cut to the size of your windows.
Making custom shutters in exact sizes, close and snug against your window frame, reduces the amount of light coming through the cracks. Having custom shutters in Las Vegas will lower your heating and cooling bills and keep your family comfortable. This is especially true if you have odd shaped windows sizes and you can't get an exact fit from the shutters that are available at the hardware store.
Lost Cost Installation For Custom Shutters
You don't want to measure and cut them, risk falling off high ladders, have bunching at the bottom if they were too long, or have jagged edges on your shutters from cutting them with   the wrong tools – so just let us install them for you. You would be surprised on how low our cost is, and the fact we can do a whole house custom shutter install in a couple hours.
Custom Shutters For Your Las Vegas Home
Window coverings are important in a place like Las Vegas, where the climate is notoriously hot and dry. However, a homeowner doesn't want to block out all the light and air with heavy shades. For many Las Vegas homeowners, the best choice would be custom shutters. These window coverings have along history of having adjustable slats that open to let in light and air, but are still able to close up if the homeowner wants privacy and shade. They can also be opened all the way to let maximum light and air come in through the window. They are so versatile that they can be custom made to fit windows of about every shape and size, including an angled window that would be difficult to dress with shades, Venetian blinds or a window set into a sloping ceiling.
Visually Appealing & Energy Efficient
Of course, the slats and panels can be nearly any color to coordinate with the room. Blind Wholesaler can custom fit any window size and dimension with your custom shutter selection. If we see any issues that may arise with your selection, we'll guide you to a product that will maximize beauty and energy efficiency. They can be two tiered, with one level shut and the other level open at the same time, or they can be fitted on the lower half of the window, letting clear light in from the top.
An arched window can have a pretty, fixed panel in the arch while the slats and lower panels can open beneath it. The slats themselves can be thin or extra wide and give a room either a modern or a retro look. If you want custom shutters installed in your Las Vegas home or business, give us a call and take advantage of our Free In-Home Estimate.