Commercial Window Tint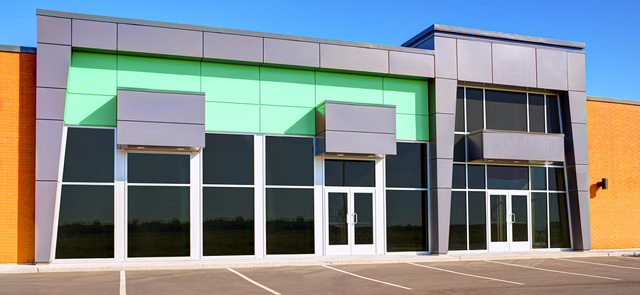 Commercial window tint is almost essential with the heat in Las Vegas and Blind Wholesaler can help. Window tinting for the home or business can bring down energy costs by reducing the internal temperature of your building. We offer many ways to protect from heat as well as conserve energy, even when your shades are open.
Controlling the Heat
Blind Wholesaler has many options for controlling the heat entering a business or home through the windows. These methods are effective in reducing air conditioning bills while keeping buildings cool. Some of these options would include:
Commercial and residential tinting
Logo and screen printing on tint
Reflective window tint
Sun-blocking tint for homes
Solar tint
Reflective Window Tint
Reflective window tinting is a solid way to keep the sun and heat out of a home or business. This film goes on the inside of the window and reduces the light that enters the building without obstructing your view of the outside.
Reduce Glare
Not only does window tinting reduce heat, but it also reduces the light coming in through windows. This means less glare for the people working inside of the business which can create a far more comfortable and relaxing work environment.
Logo & Screen Printing On Tint
Blind Wholesaler does custom screen printing with logos or designs on top of window tinting. This would be ideal for businesses who want to advertise or label their space on the outside of windows or glass doors. It will give your business a professional look while conserving energy and blocking the sun.
Solar Tinting
Solar tint is different from reflective window tinting. It does not reflect the rays from the sun. Instead, solar tint absorbs and redirects the sun's energy, keeping your space cool on the inside.
Security & Privacy Window Film
Security window film is a worthwhile investment for homes and businesses. While this film is not specifically geared towards blocking the sun, it does reinforce windows. This would make it harder for intruders to enter by simply breaking a window. It can also serve to protect your windows during strong storms as it will hold together, even after it breaks.
Blind Wholesaler in Las Vegas also offers privacy window film that keeps people on the outside from looking in. This is great for homes and allows residents to be comfortable standing in front of their windows.
Choose Your Level of Tint
There are different levels of tint offered by Blind Wholesaler. These different levels can be utilized on various sides of the home or building depending on which side gets the most sun during the day.
Homeowners and business owners in the Las Vegas area can obtain any of these tints, films, or security options by contacting Blind Wholesaler. Contact us today to receive your free quote. We'll come to you in Las Vegas and showcase our different window tinting options.