DayNite™ Shutters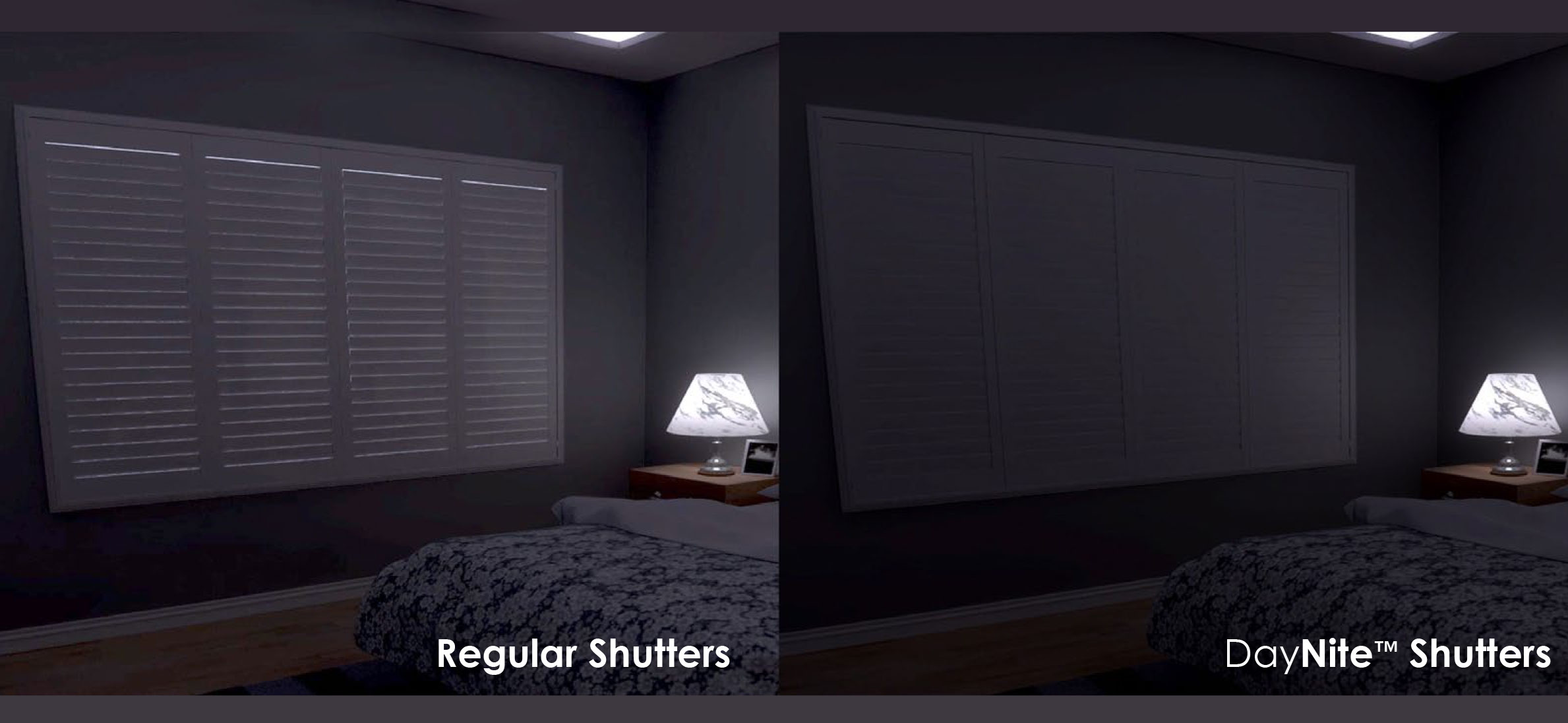 For the latest in convenient light control technologies, at Blind Wholesaler in Las Vegas, we invite you to check out our DayNite™ Shutters by Norman®. Banish the sunlight from your room and get the rest you need with this new, innovative design. Not only will you experience the best in room darkening shades, but you get the classic style of window shutters to boot.
Turning Off Those Sin City Lights
No city in the U.S. is brighter than Sin City. Vegas is known for bright lights and all-night entertainment. After the sun goes down is when things light up here. That's great unless you're trying to get a good night's sleep. LED screens, streetlights, and flashing neon signs can all be a real drag when you're trying to rest. Blackout shutters are essential in Vegas to block out all that excess light, and DayNite™ shutters are the best option for reducing light pollution and getting a good night's sleep.

Norman® DayNite™ Shutter from Norman USA on Vimeo.
Better Sleep For Night Shift Workers
The flip-side of a city that stays up all night to party, is that we have many workers that have to work those late nights as well. It's tough to get off a night shift and have to face the blazing morning sun. If you need to catch some z's during the day, you need window treatments that offer incredible light control. Nothing is worse than trying to sleep and having to try and make your room dark enough. Stop the struggle. Try DayNite™ shutters from Blind Wholesaler.

Innovative Honeycomb Shades
The secret behind the superior light-blocking abilities of DayNite™ shutters is the combination of honeycomb shades installed to a durable batten behind shutters. This compact room darkening option offers superior blackout for your windows and is unobtrusively installed. When you want the sunlight to filter in your room, or enjoy the beautiful desert views, you simply raise the shade. Some of the features of Norman® DayNite™ shutters include:
Superior Room Darkening
Noise Dampening
Energy Efficiency
Easy Installation
Unobtrusive Design
Your Las Vegas DayNite™ Shutter Dealer
Contact us at Blind Wholesaler today to get DayNite™ shutters for your Las Vegas home. This shade and shutter combo is a great option for room darkening and light blocking. Transition from day to night seamlessly and simply or bring the night to specific rooms, like nurseries, at any time of the day. Contact us today to schedule your in-home consultation.