Wood Shutters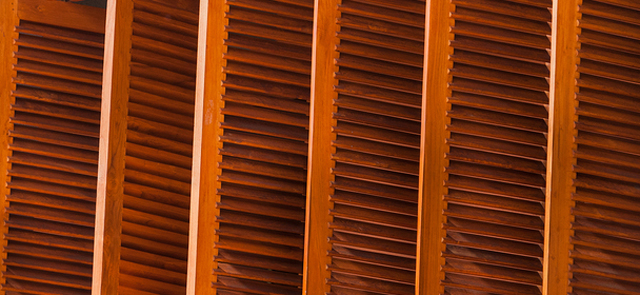 Wood interior shutters in Las Vegas have often been used by us at Blind Wholesaler to highlight traditional homes. The warm and inviting ambiance that real wood shutters provide can make a house feel like home. Whether you have a large old colonial, a ranch that is decorated in the Arts and Crafts period-style, or a simple summer home, surrounded by nature, wood shutters can add a serenity that fills your soul.
Using Wood Shutters to Create Style
If you are ready to look at wood interior shutters to create a great new style, here are two important considerations to remember. The first, is to make sure your selection of wood shutters consist of premium materials. The quality of interior shutters makes all the difference in light control, sun protection and privacy. You want the wood grain to blend well in a room, whether open or shut. Low-quality wood pieces can bend, warp and lose their original gloss over time. The second consideration is to use a reputable company for your wood shutter installation. Having a professional installer take precise measurements, then provide the wood shutter installation, will guarantee a seamless, perfect fit.
Perfect For Any Climate
Whether you live in the mountains, where snow is part of the seasons, or enjoy the warm, year-round sunshine of the desert climate, wood interior shutters are great for climate control. Wood shutters in the Las Vegas Valley, can compliment your home, plus help you stay comfortable. Energy efficiency is realized, immediately, when shutters block harmful UV rays that can have a negative effect on furnishings, and your health. New motorized shutters can help create ambiance, and a soothing climate when placed on cathedral ceiling windows, or even large skylights.
Custom shutters, using professional wood shutter installation, is the perfect way to update a tired room, change a style, or increase a home's market value. For the best wood shutters in Las Vegas, choose Blind Wholesaler. There will never be a question in your mind that quality materials and installation will be foremost to a seasoned company, and the results aesthetic and long-lasting. Free onsite estimates are available, plus learning about updated designs and features, will help you select the perfect shutters for your new style.