Roman Shades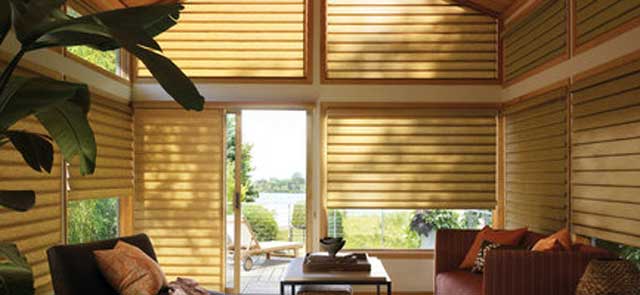 Blind Wholesaler is your source for Roman Shades at wholesale prices in Las Vegas. If you have decided on Roman Shades for your home or business you have come to the right place. Save lots of money while you complete the look of your living space.
Professional Installation In Las Vegas
Blind Wholesaler is very experienced in installing high quality Roman Shades in Las Vegas. For use in any home or business, it is essential that the installation of Roman Shades be performed by an experienced installer. Whether they are tailored shades or relaxed roman shades, they are constructed to very precise specifications and the installation must be equally precise in order to achieve a sophisticated and aesthetically pleasing look.
Cascade Roman Shades
Cascade Roman Shades present a crisp and very tailored appearance with horizontal folds that must be perfectly matched when they are hung next to each other. They must be installed so that the folds are perfectly aligned, whether they are raised or lowered, in order to achieve the tailored look for which they are known.
Relaxed Roman Shades
Although relaxed, Roman Shades can be less tailored and formal than Cascade Roman Shades. Installation must be no less precise in order to maintain their sophisticated appearance. Relaxed Roman Shades are available in a variety of styles, but each must be aligned with the others when they are installed. This requires the expertise of an experienced and dedicated installer who has the eye of a designer as well as the precision of a machinist.
Inside Mount Roman Shades
Inside Mount Roman Shades are measured to very tight tolerances and a difference of as little as 1/8th of an inch can determine whether the shade, which is mounted on a headrail or headbox, fits perfectly or is too large or too small. Even though there may be slightly more tolerance in the measurements for outside mount shades, they must be able to fit within the space allotted; therefore, precise measurements are essential.
Motorized Roman Shades
Motorized roman shades are very popular for large windows or for those that are difficult to reach. Although no permit is required for it, the installation of motorized shades requires an installer to be familiar with basic electrical concepts and applications.
Schedule A Free In-Home Consultation
At Blind Wholesaler, our employees are trained be detail-oriented, mechanically inclined and have an eye for aesthetics. When those combinations unite, your new shades will be the focal point of the room. If you're looking for Roman Shades in Las Vegas give us a call to schedule an appointment.