Commercial Shutters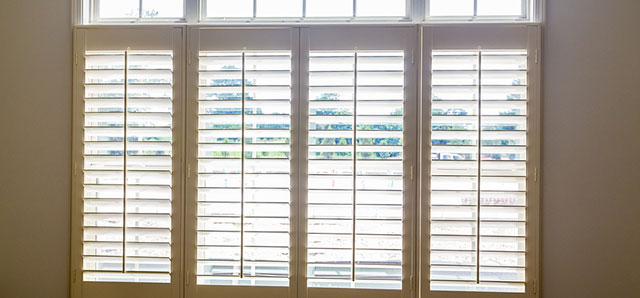 If you are looking for commercial shutters in Las Vegas, you can rely on Blind Wholesaler to meet your needs. We have a wide variety of shutters to choose from for all your business demands, whether you have an office or an apartment building.
A Variety To Choose From
Some of our commercial shutter options include:
Aluminum Shutters: More durable and affordable than wooden options, they also require less maintenance. Our aluminum shutters are perfect for the desert climate of Las Vegas and afford protection from both the glaring sun and prying eyes.
Wood Shutters: If you're looking to add a classy touch to your space, nothing can beat the comforting warmth of genuine wood. We can help you choose a wood grain to match the ambiance of your environment so that you can enjoy both comfort and elegance.
Composite Shutters: If you would like to have the best of both wood and aluminum, you should consider composite shutters. These have the beauty of wood but are much more durable and resistant cracking or fading. 
Automated Shutters: Have you ever wanted to operate your window covers from your smartphone? Blind Wholesaler has just the right app for you! Our automated shutters can be programmed to adjust automatically according to light and temperature fluctuations which is especially useful for hard-to-reach windows, such as skylights. Give your customers the environment they need automatically or with the touch of a button.
Wholesale Prices For Commercial Properties
Our shutters can be used for a wide variety of commercial applications. For example, some of our previous customers include:
Restaurants: Shutters provide shelter from the glaring sun, and help to create an intimate, comfortable atmosphere for your customers to enjoy their meals.

Apartments and Condominiums: Your tenants will fall in love with your rentals when they see how welcoming and sheltered the rooms feel. At affordable prices, our shutters will serve as an excellent choice, while coming in at a budget you can afford.

Offices: It is hard for your employees and customers to focus on the service they need if they are having trouble seeing through the glare. These shutters will provide shelter from the bright sunlight while also providing a sense of privacy unmatched by other window covering options. 
Why choose us?
Blind Wholesaler is the premier source for commercial shutters in Las Vegas. We were established in 1993 and our reputation for excellent customer service, combined with our wholesale prices, has made us one of the leading window treatment companies in the Las Vegas valley. We'll come to your business to discuss your needs and will always provide a free estimate. Call us today to schedule your appointment.