Window Treatment Automation Integration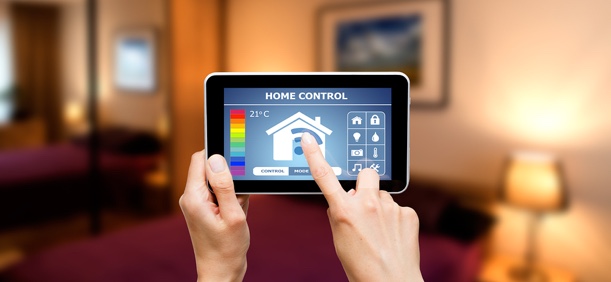 The home of the future can be yours today with window treatment automation integration offered by Blind Wholesaler in Las Vegas, Nevada. Our beautiful and affordable motorized blinds, shades and shutters can be integrated into your new or existing total home automation system that may also include lighting, sound, and many other devices to enhance your comfort, privacy and security. Choose the perfect window treatments for your space from our vast inventory. Let our home automation integration experts take care of the rest.
Advantages of Automated Window Treatments
There are many advantages to integrating your motorized windows, shades, and shutters with your home automation system. You enhance privacy and security to protect yourself and your family. You save on energy with shades and blinds that can be programmed to automatically open or close when the outside temperature reaches a certain level. Enjoy the convenience of controlling all your window coverings with one touch, either from your home or a remote location. Give the appearance that you are at home while out of town or on vacation. Block the sun's UVA rays from damaging your furniture and artwork with light-blocking shades that can be programmed to close when sunlight is at its brightest.
Compatible Home Automation Systems
With the Internet of Things well on its way to becoming a reality for many homeowners, there are so many automated devices and so many home automation systems to put control at the tips of your fingers. With window treatment automation integration services, our motorized blinds, shades, and shutters are compatible with the following:
Control 4 Systems
Savant Systems
Z-Wave Signal Devices
Zigbee Signal Devices
Control 4 systems use an intuitive control to automate various "intelligent" electrical devices, such as motorized shades, through connection to sensors and the internet. Using your cell phone or computer touch screen, you can also control the climate of your home, heat your pool or spa, turn on lawn sprinklers, listen to music, turn the lights on and off, and arm your security system.
Savant systems is a premium automation system that allows you to create personalized programs for your window coverings, lighting, and entertainment and view your entire home from any location. One touch control enables you to create the ultimate atmosphere for enjoying your home.
Z-Wave & Zigbee, The Languages Of Automation
Z-Wave systems use a wireless language that allows your household electronic devices to connect to one another using low-power radio waves. Zigbee is the wireless language that your devices use to connect with each other. With home automation integration, you can open or shut your blinds, control the temperature and lights, and receive alerts as to intruders, smoke, carbon monoxide, and water leaks when you are out of town. It uses the Internet of Things to turn your automated home into a smart home, controlling the widest range of devices from cable and telecommunications to your coffee machine.
Switch To Convenience Today
Contact Blind Wholesaler today and ditch your tangled window cables and strings for the convenience of motorized window coverings which can be easily integrated into your home automation system to provide the ultimate in comfort and security.