Exterior Roller Shades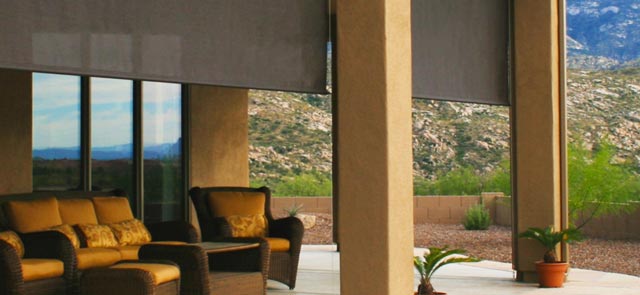 Blind Wholesaler is your number one choice for your exterior roller shades in Las Vegas. We have hundreds of custom colors, designs in order to help you locate the perfect fit for your home. We offer handcrafted workmanship to fit your personal style. Exterior roller shades and blinds are easy to use and maintain. They provide the perfect amount of privacy and sunlight for your deck or patio. Blind Wholesaler offers free samples and free estimates to help get you closer to the perfect look you have always wanted.
We Offer Affordable Exterior Roller Shades
We provide affordable exterior roller shades in all colors and a custom fit to any private outside area. Roller window shades are affordable and available to offer light filtering and a sense of security. They can raise and lower in one smooth, easy motion. Use your exterior roller window shades alone or enhance the look with window treatments. Blind wholesaler will work with you to measure the perfect fit of exterior roller shades for your home. When you invest in exterior roller shades from Blind Wholesaler your heating and cooling bills will be greatly reduced.  Harmful UV rays are blocked and your patio will keep your home or deck cool with custom exterior roller shades. You can expect minimal maintenance and unmatched durability.
Professional Exterior Roller Shade Installation
Give your home and wallet the relief they need in the hot summer months by installing custom fit exterior roller shades. By installing exterior roller shades, protect your privacy and reduce your air conditioning costs. In addition, you will also protect your outside patio furniture and your inside home furniture, from the sun's glare, reducing any discoloration the sun's rays may cause. Blind Wholesaler offers free estimates for exterior roller shade installation and custom fit shades to provide your home with a beautiful new look at a reasonable price you can afford. You will still enjoy your view and reduce air-conditioning costs with exterior roller shades. Blind Wholesaler will work with you on installing and designing the best fit shade for your home. We offer custom designs and a huge variety of colors to fulfill your style needs.
You can rely on the team at Blind Wholesaler to guide your exterior roller shade needs. Call us with any questions regarding exterior roller shades today.