3 Easy To Clean Window Coverings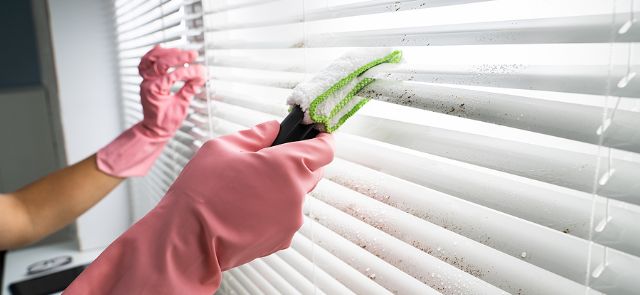 Cleaning your window coverings doesn't have to be a hassle. There are many types of window coverings that are easy to clean and maintain. Why not consider these stylish yet sturdy options for quick tidying and maintenance.
Top 3 Easy To Clean Window Coverings
We've all been there. Dust builds up on top of the blinds, shades collect dirt, and…how did all these fingerprints get here? Window coverings take a lot of abuse and with our busy lives, cleaning them regularly can seem like a daunting task. Sometimes the materials they are made of will actually attract dust making it feel impossible to keep up with. So, what are the best options?
The right window treatments can make all the difference when it comes to easy cleaning. Our recommendations are based on years of experience in the industry. We work with many businesses, housing companies, hotels, and apartment complexes to provide the highest quality window coverings that are easy to maintain.
Cellular Shades
Also known as honeycomb blinds, these shades are perfect for homes with kids and/or pets. They are less likely to become dust magnets due to the innovative materials they are crafted from. Cleaning is a breeze if you have a vacuum, just use the hose and brush attachment every once in a while to remove any dust or dander that does show up. You can even use a lint roller or soft cloth to wipe these versatile shades down.
Aside from being easy to clean, cellular shades also offer the benefits of light filtration, a variety of color options, and home insulation.
Faux Wood Blinds
Faux wood blinds are increasing in popularity due to their stylish appearance, durability, and ease of maintenance. You get the attractive look of natural wood without the hassle of maintaining the real thing. Typically, a damp cloth is all you need to wipe these versatile window coverings down. They are also less prone to dirt and staining than their plastic or lighter-colored counterparts.
Roller Shades
Now, let's talk about window coverings that are both trendy and functional. The minimalistic, clean look of roller shades makes them an attractive option for people who like a clean, neat look to their home. Offering the warm texture of fabric while being easier to clean than typical fabric styles is a huge bonus with this option. A quick vacuuming every once in a while should do the trick!
Schedule A Consultation
At Blind Wholesaler in Las Vegas, we offer an extensive selection of window treatments to fit your busy lifestyle. If you're interested in affordable blinds, shades, or shutters that are easy to clean and maintain, we have you covered. Contact us today to schedule a consultation, and we can help you decide which option is the best for your home.