5 Ways To Style Your Plantation Shutters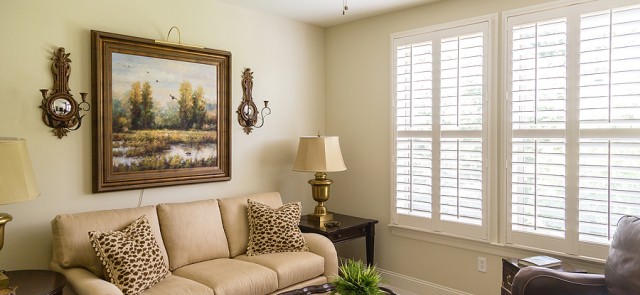 It's hard to beat the versatility, energy efficiency, and style of beautiful plantation shutters. They add a more permanent feel than many types of shades and look more sophisticated than blinds. One you've got your heart set on these louvered lovelies how do you style them or decorate around them? As a leading provider of window treatments for model homes and home staging professional in Las Vegas, Blind Wholesaler has some great ideas for you.
In The Kitchen & Bathrooms
In Bay Windows & Above Recessed Window Seats
In Large Rooms With Vaulted Ceilings
In Doors Of All Shapes & Sizes
In Uniquely Shaped Windows
1. In The Kitchen & Bathrooms
Kitchen surfaces can sure take a beating. Grease, water, and maybe a smoothie mishap or three mean that from wall finishes to cabinetry, you want easy-to-clean options. Plantation shutters are clean-looking, heavy-duty, and available in a variety of materials to hold up to everyday wear and tear.
Use them in bathrooms as lightweight doors between areas like a walk in closet and vanity area. Or take advantage of custom rail-height placements and double hung options to get the light you want with plenty of privacy.
2. In Bay Windows & Above A Recessed Window Seat
Bay windows and recessed window seats are always a challenge to cover. These little bump outs make reading a book or lingering a little longer at breakfast a pleasure. Why not dress them up with plantation shutters? Control the mood with the amount of light you let in and keep out the cold more efficiently than with blinds or shades.
Choose a double hung installation so that you can completely open the top and bottoms of your shutters independently.
3. In Large Rooms With Vaulted Ceilings
The open feeling of floor to ceiling windows and window walls in large rooms is beautiful. Plantation shutters can open from the center during the day for that wide open feel. Choose 3 1/2" slats to balance the look and motorized controls for upper, out-of-reach louvers.
Wood finishes can accent or become the focal point for rustic, farmhouse chic, and Scandinavian decor. Darker or black finishes add drama. White and creamy finishes can add a light feel to modern and minimalistic home styles.
Using them on these large areas or in all your front windows, for example give your home a uniform look and increase your curb appeal. If budget is a concern, plantation shutters are usually far more affordable than custom draperies for every window. They can also often be financed along with the purchase of a new home.
4. In Doors Of All Shapes & Sizes
Skip the vertical blinds or in-door shades and consider plantation shutters to cover the French and sliding glass doors in your home. Try easy to throw open completely styles that open from the center across bedroom french doors.
Bi fold shutters across your sliding glass doors are simple to pull away from entries and exits. You don't have to worry about anything installed too close to one side, like a wall or artwork. Open louvers all the way in the morning to wake yourself up or close them halfway for cozy ambiance.
5. In Uniquely Shaped Windows
You love that rectangular picture window over the fireplace, quirky round windows in the bathroom, or thin door side windows in your home, but how can you cover them? Plantation shutters can be fully customized to cover any shape or size. Everything from the frame thickness to louver size and finish can be made to order.
See How Plantation Shutters Look In Your Home
At Blind Wholesaler, we bring your window treatment options to you so you can see how each option will really look in your home. We can take care of all the measurements, installation, and customize so your plantation shutters look and fit right, right from the start. Contact us to schedule your in-home consultation today.