Covering Hard To Reach Windows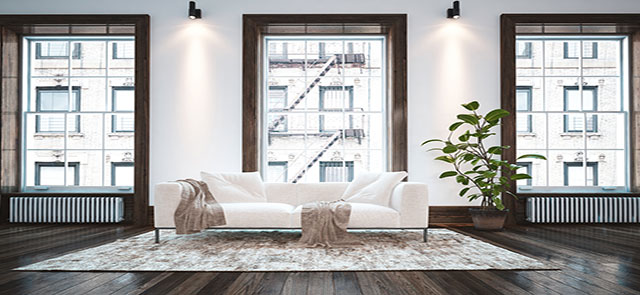 At Blind Wholesaler, we can help you with covering hard to reach windows in your Las Vegas, NV home or place of business. High ceilings really open up a space. High windows open it up even more by letting in lots of bright light. Covering high windows can be difficult at the best of times and seem downright impossible the rest of the time. Who wants to buy a ladder you're not likely to use again and struggle with measuring, hanging, and adjusting from the top of it? We can take care of all of that for you. Leave the hassle to Las Vegas window treatment pros.
Window Treatments For Hard To Reach Windows
We carry shades, shutters, and smart blinds for hard to reach windows. Whether you want a simple no-fuss option to comply with your homeowner's association (HOA) or a floor-to-ceiling custom shade solution to match your interior decor, we have what you're looking for at a price that can't be beat. Just some of our more popular options for covering hard to reach windows include the following choices:
Get Smart With Automation
Smart window coverings like motorized blinds can be the perfect solution for large windows. Options like top down cellular shades become even more appealing when they can be lowered to let light in during the day and raised to increase privacy at night at just the touch of a button. We specialize in automated window treatment installations to suit all types and sizes of windows.
We Offer Custom Shapes & Sizes
When it comes to hard to reach windows that are large, over a door, arched, skylight, or bay windows, sometimes custom window treatments are your best bet. Many custom or unique, older homes also benefit from the personal design services we offer. We offer shapes and sizes of blinds, shades, and shutters to match any high window you need to cover. We also offer a variety of materials, fabrics, and designs to match your lifestyle and desired look.
Wholesale Prices, Personalized Service
Don't risk an unnecessary fall or spend hours of your life searching for the perfect fit that isn't there on the big box store shelves. Contact us at Blind Wholesaler for help with covering hard to reach windows today. We conveniently come to your Las Vegas, NV home or place of business. We bring the options, swatches, and samples to you. We even do all the measuring and provide installation services so you can be sure of a perfect fit. We look forward to hearing from you.