Traditional Shutters vs Plantation Shutters: What Is The Difference?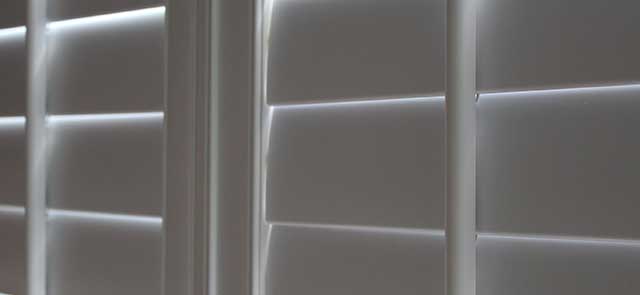 Blind Wholesalers of Las Vegas offers you excellent quality, with traditional and plantation-style shutters at wholesale prices. Shutters are a great way to update your home or office space while limiting UV exposure and saving on energy. Our team will come to you, evaluate your window treatment needs, then provide you with a free estimate.
Traditional Shutters Enhance Smaller Spaces
Traditional Shutters Works Well In Arm's Reach
Invest In Plantation Shutters For Added Value
Flexible Options For Plantation Styles
Traditional Style Is Classic
Traditional shutters are smaller styles initially used in most homes in the northeast before the revolution when glass windows were smaller, so traditional shutters work well today in kitchens or bathrooms. They are fairly fixed wooden treatments within a wooden frame with a single vertical rod that's used to manually tilt the small louvers to the open or shut position. This style is pretty simple to operate, plus cheaper to purchase, and includes our free installation.
Traditional Shutters Are Better Suited For Low Placement
These traditionally styled window treatments can be made of real or faux wood in various color options and provide good UV light coverage in a variety of smaller spaces in the home or office. While their hallmark is classic style and simplicity, a drawback to using traditional shutters is their limitations in rooms with vaulted ceilings. Typically, traditional louvers are narrower, consequently requiring a few more slats to cover a framed area.
Plantation Style Shutters Are An Investment
Compared to a traditional style, there is more of an initial cost outlay for plantation shutters. However, improvements in their style and convenience translate to long-term savings. Such an investment results in more long-lasting window treatments, which also affords the homeowner more customized options. These southern-influenced plantation-style treatments, add greater value over time.
Plantation Shutters Automated Convenience
They are well suited for larger living and dining rooms with bigger windows where the aesthetics of larger louvers and frames present well in such spaces. The plantation styles are also very attractive with lofty windows close to high ceilings. There they can be mechanized, automated, then put on timers to open or close throughout the day as the sunlight also intensifies in the room. Ask our team members about the options for your hard-to-reach windows when they visit your home or office for a free estimate.
Plantation & Traditional Styles
Natural Stain Finish
A Variety of Colors
Wider 3.5 inch Plantation Louvers
Motorized Plantation Style
Call For A Free Estimate
Choose from a wide selection of high-quality top-brand styles at wholesale prices. At Blind Wholesaler, we can save off retail prices because we offer direct shipment from our suppliers. Call us today for free estimates at your Las Vegas area office.