5 Window Treatments To Enhance Your Office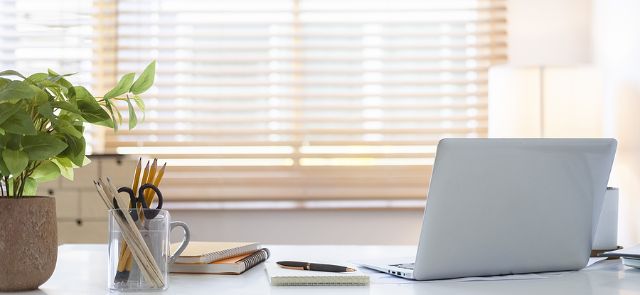 Whether you operate a home office or a public or commercial office, finding the ideal office window treatment options in Las Vegas is essential. These five popular choices offer functionality, privacy, and convenience while being stylish within these spaces.
1. Automated Or Motorized Office Window Treatment Options
Motorized window treatments are shades, shutters, or blinds controlled via a remote that can lift, lower, and tilt them as needed. These automated systems can also be incorporated with smart systems allowing voice and app commands. We can help you choose an option that suits your needs and taste preferences.
2. Bamboo Window Blinds
Bamboo materials have grown in popularity for applications ranging from clothing, flooring, and furnishings to window blinds. Not only are they ecologically friendly, but bamboo blinds also bring forth a refreshing feeling of nature while allowing controlled amounts of lighting into the office space.
3. Solar Shades For Office Windows
Solar shades are window coverings that have the ability to block as much as 90 percent of harmful UV rays. These can be invaluable for those working in sun-filled rooms where glares from computer screens can make work more challenging. They can be operated manually, remotely, or via an app and come in various colors and blind styles.
4. Stylish Faux Window Shutters
Faux wood shutters for windows are excellent for offices that require greater privacy and those who want an affordable option compared to those made of real wood. These shutters can also help save money on utility bills and come in traditional, vertical, and plantation styles.
5. Antiviral & Antimicrobial Roller Shades
Those looking to decrease lost days at work and protect their guests might turn to antimicrobial and antiviral roller shades. These stylish shades use Microban® antimicrobial technology that prevents the growth and the spreading of many of the more common sources of illness and infection. Installation of these shades is common in environments that include:
Healthcare & Medical Facilities
Service & Hospitality Businesses
Assisted Living Facilities
Retail & Office Spaces
Educational Institutions
Residential Offices
Get Shutters, Shades & More At Blind Wholesaler In Las Vegas
We'll come to your Las Vegas location to measure your windows and offer an estimate for your shades and window treatments. Contact Blind Wholesaler to schedule a free consultation for window coverings in your commercial or residential office space. Ask us about our wholesale discount pricing and free installation options!