Wood Vs. Faux Wood Blinds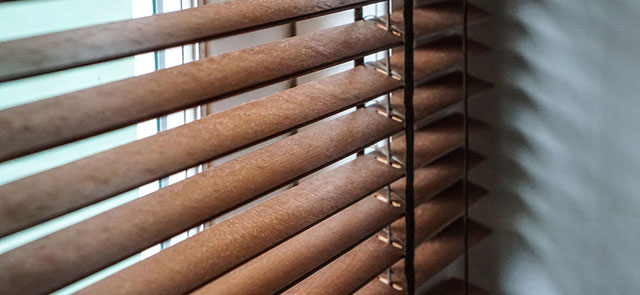 Let us help you decide between new wood or faux wood blinds for your Las Vegas home or business at Blind Wholesaler. We have over 25 years of experience helping Las Vegas residents find the perfect window coverings for their homes and businesses. Your window treatments are an investment in comfort and privacy. We're here to help you make the choice that is best for you.
Real Wood Vs. Faux Wood Blinds
If you are considering new window treatments for your home or business, you have likely thought about the warm, luxurious look of wood blinds. The choice between composite wood blinds or real wood blinds can seem daunting and confusing. When they look so similar, how can you tell which is better?
What are the pros and cons of each of the two options? Well, they both have their own set of advantages, and we're happy to break it down for you.
Our Custom Faux Wood Blinds
Faux wood blinds, also called composite wood blinds, are made out of a composite PVC material. They are available in a large selection of colors, including faux wood grain options.
There are many advantages to going with a faux wood option.
Wood Like Appearance
Many Color & Stain Options
15-20% Lower Cost
Easy To Clean & Maintenance
Better Insulation
No Worries About Warping, Cracking Or Splitting
Made out of a composite PVC material rather than real wood, the care for faux wood blinds is simple. You don't have to worry about cleaners damaging your window treatments. This is especially helpful in high traffic and commercial spaces. They are also a great option in more humid spaces like bathrooms, spas, rec centers, and swimming pool enclosures.
When It Just Has To Be Real Wood
Real wood blinds are also an excellent option. As the name suggests, real wood blinds are made from real timber, usually North American hardwoods. For some, the beauty and elegance of real wood blinds just can't be beaten.
There are some distinct advantages to choosing beautiful real wood as your blind option.
Warmth & Beauty Of Real Wood
Can Be Stained To Match Wood Or Custom Paint Color Exactly
Lighter Weight Than Composite Blind Options
Great For Large Windows
Real wood blinds can be stained or painted to match or compliment any decor. They are an excellent option when you have a very specific color in mind. Because they are lighter than faux wood blind options, they are also an excellent choice for very large windows, which are becoming more and more popular.
Where To Buy Wood Blinds In Las Vegas
Both real and faux wood blinds are great choices. You may even choose to mix and max the two. Your space, decor, size, and location of the windows you are covering as well as your budget can all help you in your decision. At Blind Wholesalers, we have the best faux wood blinds and real wood blinds to choose from in Las Vegas at prices that can't be beaten.
Contact us today to set up your free in-home estimate and measuring. We bring the design choices to you, and you leave the hard work to us.