Choosing The Best Window Treatments For Your Office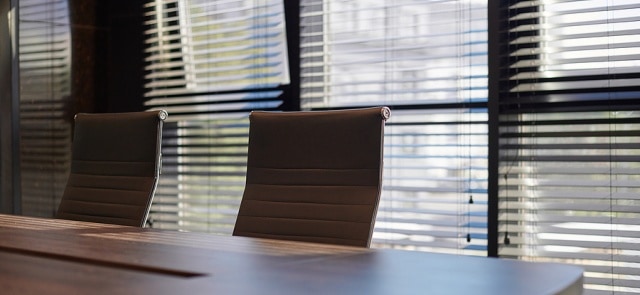 Create an ideal workspace with stylish window treatments that increase efficiency, and support productivity. Blind Wholesaler, in Las Vegas, will visit your office, measure your windows, and provide a free estimate. We bring you a variety of quality window treatments factory-direct at wholesale prices.
Consider This When Choosing Office Window Treatments:
Balance Your Business' Light & Temperature
Workspace Comfort With Shutters
Improve Workplace Productivity With Blinds
More Office Privacy With Blinds
Boardroom Blinds That Are Aesthetic Yet Functional
Save Money With Efficient Window Coverings
Balance Your Office Light & Temperature
Balance the appropriate amount of shade and light in your office with blinds or shutters. Consider which one is suitable for the type of windows in your space and what's easier to use for employees who may need to adjust often. Automate shutters that are in hard-to-reach places. It's convenient to manage glare and radiant heat at the sun's strongest hours of the day.
Create Workspace Comfort With Shutters
Create a comfortable environment for your employees to collaborate with shutters that work well on exterior windows. On wider windows, they can be opened laterally during low light conditions. If they are on a side of the building that's a high-traffic area, they can be left semi-closed as a security feature. We offer shutter options with motorized electric features that can be controlled by a wall switch or smartphone.
Blinds & Shutters Can Improve Workplace Productivity
Motorize your shades in your office suites to minimize hands-on operation. The less time your team spends getting up to fiddle with a window treatment, the better. Leave more time for your teams to focus on tasks.
Make Your Office More Private With Blinds
Blinds are great for privacy from outside eyes, and also in an inner office. You can close them quickly for meetings or for shade. Electric blinds in larger offices or meeting rooms with glass where it's more of a chore to run around and close all the blinds.
Make Office Blinds Aesthetic Yet Functional
Window Treatments should be both functional and aesthetically pleasing. Creating a great ambiance improves your team's overall morale. With horizontal blinds, you can easily control the amount of light coming into the office, as well as keep them clean. Vertical blinds allow you to control the light with to see outside without squinting.
Office Window Coverings That Save You Money
Our selection of interior shades is made of high-quality solar fabrics that provide UV protection. This helps manage heat build-up and lessens the load on your HVAC system. When your office uses less energy, you reduce your company's carbon footprint as you improve your overall energy efficiency.
We Make Window Treatments Easy For You
Call us today at Blind Wholesaler for an estimate of your Las Vegas office. We'll help you choose the best window coverings for your needs. Be sure to ask about any specials we may be offering.