Window Treatments For Bay Windows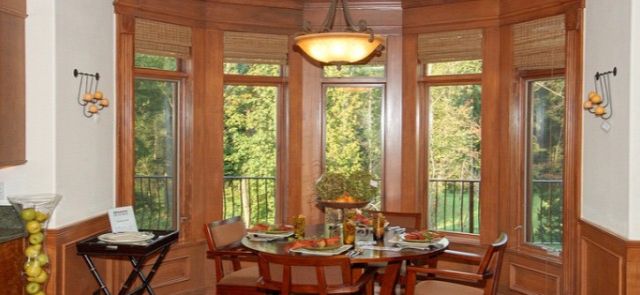 Blind Wholesaler specializes in helping you choose the perfect window treatments for unique spaces like those bow and bay windows in your Las Vegas breakfast nook or sitting room.
While bay and bow windows are popular and beautiful choices for many discerning homeowners, they can be intimidating when it comes to selecting the right window treatment option.
Favorite Window Treatments For Bay Windows
There are many flexible options you can choose from to showcase your home's featured windows that will enhance the beauty of your room. Many different factors must be considered, such as purpose, window shape, light needs, and personal style. While the ultimate choice is up to you, we do have some favorites among our many options.
Beauty, Form & Function
We love sheer and roman shade options for their ability to soften and filter the sunlight while still keeping a room bright. From a purely aesthetic look, cordless blinds and shades give a sleek design to your windows and room. Motorized options allow you to raise and lower your bay window blinds and shades quickly, from anywhere, with the touch of a button.
Cafe shutters are wonderful in kitchens and livings rooms where you get the best of both worlds with privacy and natural light. Custom blinds offer you so many colors and design options; you might get a little carried away! Whatever look and function you are dreaming of, we have a large selection to make it a reality.
Multiple Mounting Options
Window coverings for bay and bow windows can be mounted a few different ways – it all depends on how your windows are installed. You can choose from an inside mount option, a partial inside mount, or a complete outside mount. Each of these options offers a different look and purpose.
Our installation specialists will be able to discuss all the options with you to decide what will work best in your home and with the bay window shades, blinds, or shutters you have chosen.
We Get It Done Right
While bow windows and bay windows look tricky to manage when it comes to choosing the right coverings, we're here to help. These windows are made up of three or more different panes, with at least two of them sitting at an angle. Even with custom design elements, like arches, it's easy for our professional installation technicians to measure for and set up your chosen blind, shade, or shutter options.
Blinds & Shades For Bay Windows In Las Vegas
When it comes to choosing window coverings for bow and bay windows in Las Vegas, trust Blind Wholesaler. We have the expertise and selection you are looking for to style your home's windows. Contact us today to begin a consultation.