Graber
Blind Wholesaler offers the Graber line of highest quality shutters to its customers in the Las Vegas area. Whether you are interested in greatly increasing the curb appeal and value of your residence for resale or are simply wanting to enhance the beauty of your home, these are an attractive option.
Why Choose Graber?
Graber is well known for their quality craftsmanship. This brand of window treatments if both attractive and well made. Some of the features that set this manufacturer apart are:
Highest quality materials and craftsmanship.
Sophisticated style.
Energy efficient window treatments.
A green and environmentally sustainable company.
Wood or Composite Shutters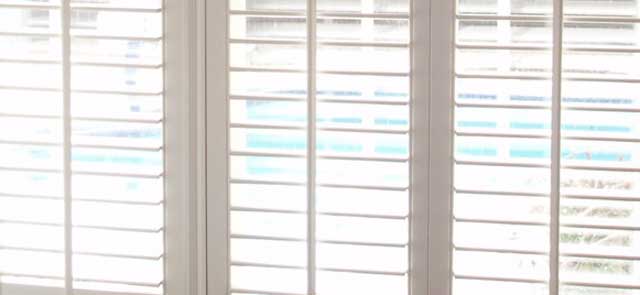 Graber uses only exceptional North American hardwoods or highly durable composites which are built to the highest quality standards in the industry. Each piece of wood is inspected to ensure its integrity. A three-step drying process is then performed to prevent cracking and warping. Skilled craftsmen subsequently mill, sand, and paint or stain the wood to create the final product.
These durable, high-quality shutters are designed to withstand high-humidity areas of your home such as bathrooms, kitchens, and laundry rooms. They are expertly engineered to resist warping, fading, cracking or peeling.
Customizable Window Treatments
Since Graber offers a wide selection of shutters, they can be easily customized to enrich the style and charm of both the exterior and interior of your home. They can add sophistication, elegance and refinement to the décor of traditional as well as modern contemporary homes. They offer exceptional design options since they can be mounted either inside or outside the window frame.
Graber shutters can also be used in the smallest to largest windows in one to eight-panel configurations. They can be shaped to fit into many different architectural designs, including arches, angled top panels, or sunburst arches, and can be specially configured for bay and corner windows.
Saving the Environment & Your Wallet
Not only do Graber wood and composite shutters offer privacy, but also energy saving options such as tilt and Hide-A-Tilt for light management and protection. These options keep UV light from fading your furnishings, carpets, and floors. Custom fitting of your windows can provide coverage to help your home stay warm in winter and cool in summer.
Graber is deeply committed to a green future and, in keeping with that philosophy, practices environmentally sustainable wood harvesting. They also recycle sawdust and wood shavings generated in the production of their shutters.
Contact Us Today For A Free Estimate
If you are considering upgrading your home with Graber shutters and want the best pricing and quality installation, contact Blind Wholesaler in Las Vegas today! Make an appointment for a free in-home estimate. We will take measurements and bring samples so that you can choose the best possible options to suit your home.