Blinds For Senior & Assisted Living Communities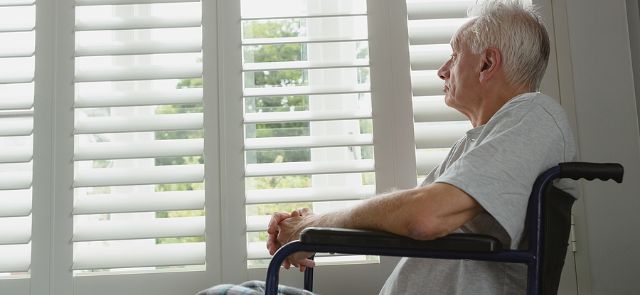 If you are shopping for new blinds, it's best to think about who will be using them. That way, you can find the best coverings possible for your rooms or facilities. The best option for one person might not be for someone else.
Window covering for assisted living facilities, senior apartments, and nursing homes should be selected with safety, convenience, lifestyle, ease of use for seniors with disabilities, and low maintenance in mind.
Antiviral Blinds
Other, Convenient Options
Antiviral Blinds
Antiviral blinds come in many shapes and styles, so you can tailor them to meet the needs of any room. The major benefit of antiviral window coverings is that they have been made with Microban fabrics, designed to offer continuous protection against microbes.
These window treatments discourage dust, so they stay clean and fresh for longer periods of time.
Cordless Blinds
Cordless blinds add safety by eliminating unnecessary cords and strings from the controls. You can open and close the slats by pulling down or pushing up on the bottom rail. These are especially helpful in senior apartments where pets and small children are allowed.
Vertical Blinds
Vertical blinds are very easy to open and close. They are ideal for someone who might not have the strength to handle traditional, heavier window treatments but still needs to be able to control the light coming into a room. It uses a thin wand to open or close the slats. Pulling on the wand moves the open slats to the left or right.
Automated, Smart Blinds
Why not get rid of cords and wands altogether with motorized blinds. These smart, automated window treatments can be controlled through a wall panel, switch, or smart device. We can help you choose an option that works with your current system.
Other Convenient Options
If you are looking for window coverings for a senior apartment community or old folk's home and need an alternative to blinds. We carry all sorts of options that can be sized and optimized to fit your facilities.
Senior-Friendly Window Blinds In Las Vegas, NV
If you are looking for the best window coverings for senior communities and apartments, then look no further than Blind Wholesaler in Las Vegas. Contact us today for an on-site consultation to explore your options.