Window Treatments For Healthcare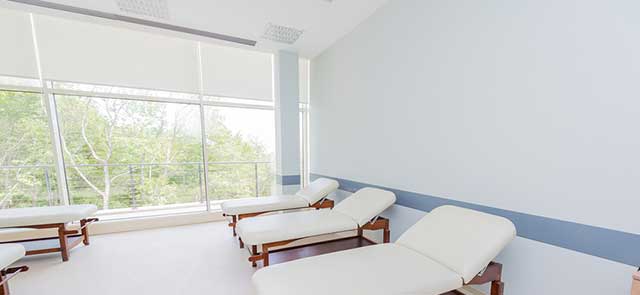 Let the sunshine in and create a healing healthcare environment with energy efficient window treatments for healthcare from Blind Wholesaler in Las Vegas, Nevada. We can supply your hospital or healthcare facility with the perfect solution in medical window coverings at cost-saving wholesale commercial prices.
Benefits Of Our Window Treatments:
Decreased Costs of Heating & Cooling
Less Glare on Medical Equipment
Comfort of Patients & Staff
Enhances The Environment
Automated Options For Ease Of Use
Decreased Costs Of Heating & Cooling
Options such as our solar screen shades lower energy consumption by significantly reducing solar heat gain resulting in lower cooling costs. They also promote the use of natural rather than artificial light, thus saving you money and improving your facility's bottom line.
Less Glare On Medical Equipment
The sun's glare can wreak havoc on medical equipment display screens and computers, shortening their effective life and making them harder to see. Our solar shades work to reduce glare significantly while filling your rooms with natural and health-promoting light.
Comfort Of Patients
Recent research has shown that natural light in hospital or health care facilities provides substantial health benefits to patients, promoting faster healing, wellness, and comfort. Our window treatments for healthcare options such as solar screen shades and translucent roller shades let the sunlight in while protecting privacy in all areas including patient and examination rooms. Our antimicrobial shades aid in preventing the transmission of infectious agents such as MRSA and prevent allergens such as mold, mildew, and fungi from accumulating on their surface.
For your exam rooms which require complete privacy, our blackout shades block any view from the outside. Our combination solar & blackout shades can accommodate various patient needs by either admitting light or dimming the room for those patients with sensitive eyes due to ocular procedures or otherwise. We also offer optional controls for motorized shades so that patients and staff can operate shades right from their beds, nursing stations or offices.
Tasteful Design & Functionality
Blind Wholesaler in Las Vegas, Nevada offers a wide variety of quality window treatments for healthcare that are aesthetically pleasing, practical, and cost reducing. We also have many excellent designs to suit the specific needs of your healthcare facility. They are easy for your staff to maintain, and they meet all federal, state and local fire codes as well as accreditation standards for patient privacy. Call us today for a quote, to schedule an appointment, or for more information and let us show you how we can help you improve your patients' stays while enhancing your hospital's environment.