Window Treatments For Hotels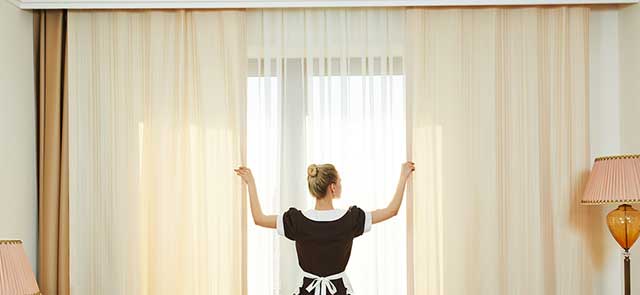 If you are looking for new window treatments for hotels in Las Vegas, Blind Wholesaler has you covered. We know how to blend functionality with style without sacrificing reliability. Whether you're looking for budget, class, or something in between, our endless selection and professional design team can help you find the perfect fit.
Blinds, Shades & Screens For Any Area
Hotels, motels, lodges, timeshares, and even your bed and breakfast all have different needs for different spaces. We know there's more to the hospitality industry than the guest room. We specialize in unique window covering solutions to compliment the following areas:
Guest Rooms
Lobbies & Reception
Conference Rooms
Exercise Rooms
Spas
Recreational Rooms
Blackout shades aren't just for the up all nighter or weary business person. Sometimes conference rooms need to fire up the projector or laptop for a power point or two. We have solutions for every space.
Customer Comfort & Cost Effectiveness
Hotel window treatments do more than just look nice. You want your guests to experience the perfect combination of luxury, privacy, light control, and heat control. Layering versatile sheer panels or blinds with blackout shades can help to accentuate or hide the view while letting light in. Solar screens can also save you money on cooling costs during our warmer weather. Custom valances and designer fabrics can add elegance or a touch of modern cool, depending on your aesthetic. Our wide range of styles to choose from means the possibilities are endless.
Quality Hotel Window Treatments In Las Vegas
At Blind Wholesaler, we know how to get you the look you want in any hospitality setting. Our extensive experience with window treatments for hotels means you always get the right combination of elegance and usability. Count on our knowledgeable and experienced Las Vegas staff to design, order, and install quality window coverings that will last for years to come. Contact us today to schedule an appointment or for more information.