Are Interior Shutters Out Of Style?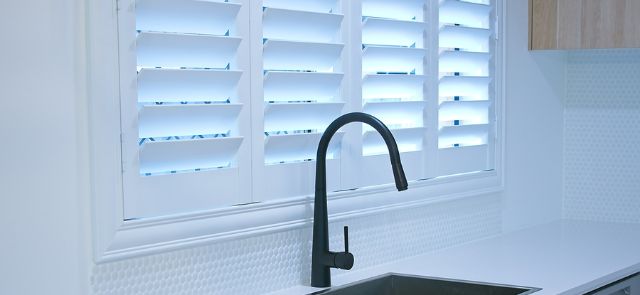 You know they raise a home's value and can even be financed as a part of some home purchases, but are interior shutters still in style? At Blind Wholesaler in Las Vegas, we keep you current on what's what in window coverings.
We can help you spruce up your home and upgrade your window treatments in your choice of materials and colors. Because yes! Interior shutters are still "in."
Interior Shutter Trends
Natural Stain Finishes
Colorful Shutters
Wider 3.5-Inch louvers
Energy-Efficient Plantation Shutters
The trend in window coverings is the classic, functional plantation shutter. They remain timeless because of the ease with which you can quickly darken or brighten a room and temper the heat on sunny days.
These shades also have insulating properties in colder weather as the louvers can be closed all at once, using the vertical stile, and sealing heat in, thus saving energy.
The Best Material For Indoor Shutters
You can select shutters made from natural wood, PVC, Vinyl, Polywood, or faux wood in various colors. Vibrant paint colors can provide a finishing touch to your home's decor. Or stay neutral with more traditional wood stains of maple, oak, walnut, and cherry.
Wider louvers are more popular than narrower slats.
Monochrome Colors Or Pops Of Contrast?
When window treatments and walls are the same neutral or light color, the room looks brighter and more spacious. However, light walls can set off and draw attention to darker, warmer tones in shutters; and vice versa, light-colored shades can create a bold, interesting contrast with colorful walls that pop.
Matching your doors to shutters in a room also creates a seamless visual transition that can be more aesthetically appealing.
Automate It With Motorized Shutters
Schedule the opening and closing of your shades to save time and money. We can install your motorized electric shutters, some of which can be controlled by your smartphone, a wall switch, or set on a timer. These features are invaluable for hard-to-reach windows and skylights.
Additionally, less handling of louvers helps your investment stay cleaner and last longer due to reduced wear and tear.
Update Your Home With Plantation Shutters
An investment in interior shutters today can add enjoyment and value for years to come. At Blind Wholesaler, we offer wholesale prices and expert tips on customizing with window treatment trends. Call us in Las Vegas today to schedule your in-home consultation.