Best Smart Blinds In Nevada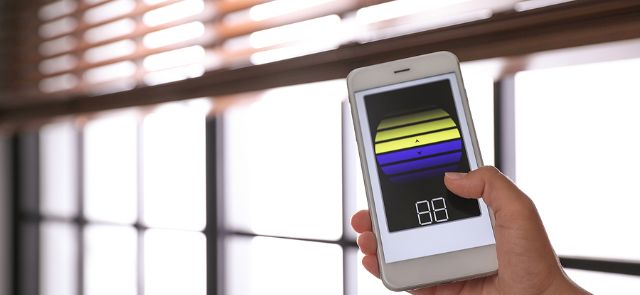 With scorching summer temps and graveyard shifts aplenty, climate and light control are big factors in the quality of life here in Las Vegas. The latest automated blinds are designed to keep the sun at bay in a stylish and state-of-the-art way. Let's take a closer look at features for the best smart blinds in Nevada.
Convenient Controls – Smart Device, Touch Remotes, Personal Assistants
Motorized Lift & Tilt – No Tangled Cords Or Wands Necessary
Automation – Including Light Sensors & Programming
Available In All Of Your Favorite Styles
Solar, Blackout & Other Traditional Materials
Fully Customizable To Fit Your Unique Windows
Sun, Battery, Or Plug-In Power Options
Single Or Multi-Channel For Personalized Control
Convenient, Stylish Window Coverings
Similar to traditional window treatments, smart blinds allow you to have more control over the amount of sunlight coming into your home. This can lead to savings on your heating and cooling bill. Because they are available in a range of styles and designs, you don't have to sacrifice style for functionality.
How Do Smart Blinds Work?
Where smart blinds truly shine the brightest is in how easy they are to control. You can say goodbye to having to manually pull a cord or twirl a wand to close and open shades, slats, louvers, or shutters. Instead, you can simply press a few buttons on your phone, tablet, or smart home control pad.
Even better, we can make it so you can rely on any of today's most popular digital assistants. "Alexa, raise blinds." Could it be any easier?
Lutron Homeworks
Apple Homekit
Google Home
Amazon Alexa
Control4
Somfy Tahoma
Easy To Use & Easy On The Power Bill
Most smart blinds offer you the ability to control movement through a mobile device or remote controls. No more standing on chairs or ignoring hard-to-reach windows. Certain brands and models allow you to set schedules or times to control when they should be closed or open. This feature can be especially valuable to keep cooling costs lower in Las Vegas.
Simply Safer Window Coverings
Many of the more advanced automated blinds feature a light sensor that empowers you to control shades based on the outside lighting. Set your smart controls to detect different times of the day to further control your cooling costs and make it seem like someone is home for security reasons.
Single & Multi-Channel Motor Options
Built-in motors do the heavy lifting, moving your smart window shades up and down or tilting slats and louvers to control the amount of light getting in. Choose from a single motor operation and control all your blinds at once, or ask us to show you available five-channel systems for independent control over light and shade from window to window.
When you rely on professional installation, you get access to the brands you trust and don't have to worry about measurement mistakes, wasted money on the wrong setup or on window treatments that aren't compatible with your smart home controls, or fiddly installation.
SWFcontract Solar Shades
Smart Wood Blinds By Serena (Lutron)
Norman® SmartPrivacy®, Synchrony™ & CityLights™
Levolor Motorized
Mechoshade Automated
Graber Motorized
Mariak Motorized
Hunter Douglas PowerView®
Find The Best Smart Blinds In Nevada
Don't settle for the big box store's one-size-fits-all approach. We offer complete, end-to-end installation solutions, giving you access to the best smart blinds in Nevada. Best of all, we make getting started as easy as possible with in-home, hassle-free estimates. Contact us today.