French Country, Shabby Chic & Modern Farmhouse Window Shades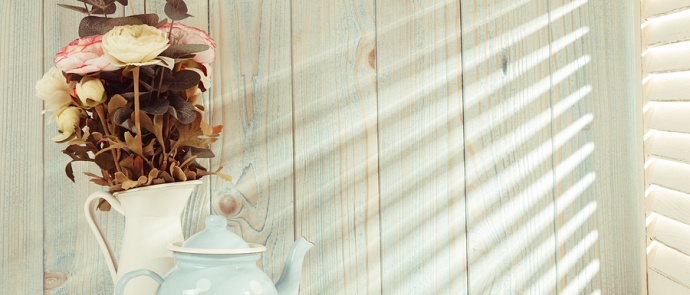 Finding the perfect window coverings and shades for French country, shabby chic, and modern farmhouse windows is a cinch in Las Vegas at Blind Wholesaler. We have you covered every step of the way, from your initial measurements to the final installation of your beautiful new window coverings. And better yet, we have it all at prices you're going to love.
Your Trendy Window Coverings Source
Shabby chic, French country, and modern farmhouse home decor styles are all the rage right now. Maybe your aesthetic is leaning more towards the French country style with its beautiful pairing of elegance and comfort or the soft distressed vintage look of the shabby chic style or the sleek and clean yet still cozy styling of modern farmhouse decor.
Whichever style you're going for, the perfect window coverings are essential for completing your look.
Budget-Friendly Shades & Blinds
We have many affordable options that can help you finish off those shabby chic, modern farmhouse, or French country windows in style. With such a variety at such affordable prices, narrowing down your shades and blinds to just a few favorites will probably be your hardest choice.
Accent Those Curtains
If you have curtains that work beautifully with your style and decor but lack the privacy and light control that you need, we can help. We have a large selection of simple mini blinds and roller shades that can add layers of additional light and privacy control while still allowing your draperies to remain the focal point of the window.
Stylish Interior Shutters At Affordable Prices
Interior window shutters work with nearly any style of decor and are a perfect option for French country, shabby chic, and modern farmhouse styles. They are not only beautiful and timeless but practical as well. By simply adjusting the slats, you can choose the amount of sunlight that you let into your room as well as varying degrees of privacy.
Shutters are easy to keep clean, long-lasting, and can make your home more energy-efficient. They can even possibly increase the value of your house. It's easy to see why this is a popular option in many types of home decor.
We have many styles of shutters to choose from.
Beautiful Window Coverings In Las Vegas
You don't need to break the bank to get the beautiful, quality, custom window coverings you want. Whether you're seeking the perfect shabby chic shades for your bedroom, modern farmhouse blinds for your family room, or French country shutters for your business, we have the selection and wholesale prices that smart, savvy Las Vegas shoppers are looking for.
Contact us at Blind Wholesaler today for more information or to schedule your free, in-home estimate.