Bathroom Window Treatments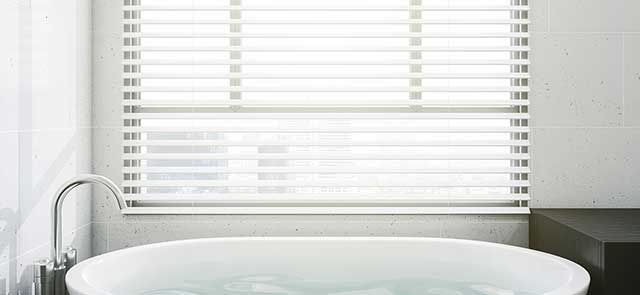 You have many options when you are choosing window treatments for a bathroom, whether it is in your own home or at your business.
You will probably want something that insulates, provides privacy, and is resistant to mildew. Three of the main categories of window treatments are:
Blinds Are Excellent Light Blockers
Blinds are a series of vertical or horizontal slats that can be raised and lowered or tilted at different angles to let more or less light into your room as you desire. They are often made of wood, bamboo, aluminum, or faux wood. People who want an extra layer of privacy and light-blocking will sometimes place curtains in front of their blinds. Blinds offer several advantages:
They provide a lot of privacy.
They are available in many sizes.
They are made of mildew-resistant materials.
Shutters Offer Insulation As Well As Privacy
Interior shutters are made up of slats that are attached to a frame that fits inside your window. You can angle the slats to let in light during the day. Because the slats and frame remain in place in your window (not pulled up like blinds or a shade), they do reduce your view of the outdoors, but this may not be a concern for a bathroom window. Shutters are useful as well as decorative:
They provide insulation, light-blocking, and privacy.
Shutters are available in many wood-grain tones and paint colors.
Shades Add A Soft Touch To Your Window
Shades are made of soft fabrics attached to a rod or frame. Shades either roll up around their rod or fold up like an accordion. (The roller option may not be a good choice for a bathroom, as it can be susceptible to mold.) You can raise the shades up or down to get the amount of light you want. Shades are good options because:
Shades fit inside your window frame, producing a neat and tidy appearance.
They can be made in any dimension, large or small.
Some shade materials offer insulation.
Save Money On Your Window Treatments
As you consider what type of window coverings to choose for your bathroom, give Blind Wholesaler a call. We offer the convenience and the price advantage of a mobile business. We will come to your home or business to measure your windows and help you consider your options. Call us today.