Custom Printed & Branded Storefront Shades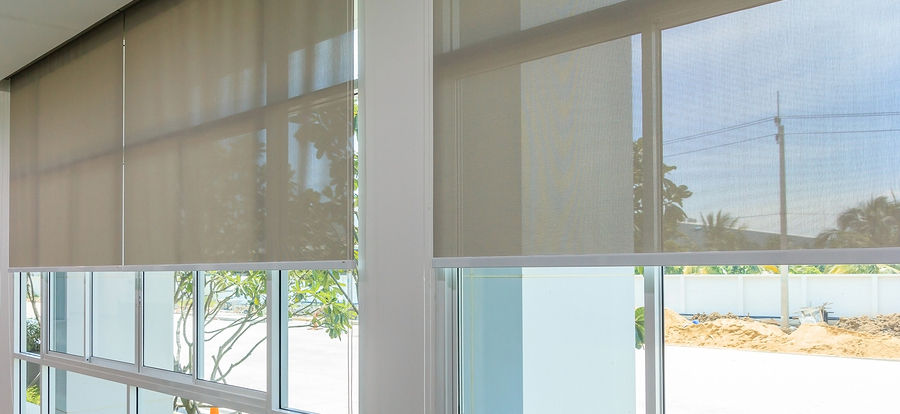 Keep your business cool with custom storefront shades from Blind Wholesaler in Las Vegas, NV. You can customize your shades in size, color, shape, and even have custom automation options so the shades automatically close or open based on the time of day or the push of a button. Looking to combine advertisement with retail window shades? Consider installing custom shades along with business window tinting with screen printing. You can have advertisements, call to actions, logos, or other designs printed directly onto the window tint.
Block The Light, Bring In The Customers
Whether it's a bright eye-catching color draped all the way up to your ceiling high windows or a beautiful pattern to shade shoppers during those sunny afternoons, custom shades for your shop windows make an impact and show customers that you care. They are made to last and easy to use. Best of all, we make the entire ordering and installation process a cinch. We come to you and take care of both the measuring and installation. So, you know you'll always have a perfect fit. Just some of the customization options you can choose from include:
Blind, Shade Or Shutter Preference
Window Covering Fabrics & Materials
Custom Sizes Or Shapes Are No Problem
Motorized Or Manual For Convenience
Interior & Exterior Options Available
Preferred Level Of Light, Glare & Heat Blocking
High Ceiling, Full Coverage Or Partial Coverage
Roller, Uncorded, Louvered, And Much More!
Put Your Windows To Work
How much square footage do your windows take up anyway? Imagine all that space selling your product, announcing your sale, or presenting your brand to onlookers much further away than a flyer or poster could ever reach. On top of that, you get the light blocking and cooling benefits of window coverings. Just some of the other advantages of choosing our custom storefront shades would include:
Durable Materials, Made To Last
Fully Customizable To Your Design
Control Light & Block Heat
Fully Retractable For Convenience
Reduce Energy Bills
Keep Products Cool & Protected From The Sun
Deter Crime & Theft At Night (Add Security Window Film)
Promote Your Brand With Custom Printed Tint
Just because you have set retail hours doesn't mean you have to have set advertising hours. Your logo will be in the minds of pedestrians and anyone who drives by long before you open or close for the day with our custom screen printed window tinting. Your commercial printed graphic, art, or design on custom glare and heat blocking window tint will make your storefront stand out from all the rest.
Customize Your Las Vegas Storefront
Stand out with custom storefront shades from Blind Wholesaler in Las Vegas, Nevada. Don't blend in with every other retail outlet in the shopping center. Make your windows really pop. We look forward to showing you all the exciting options we have available to you. Contact us today and schedule an appointment.